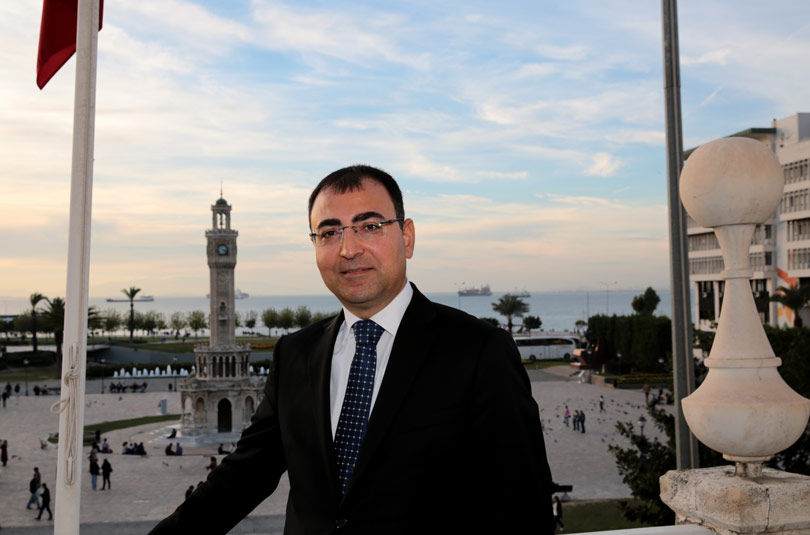 "Our goal is to become a uniting power in tourism"
Governor Mustafa Toprak says that the only way to make Izmir a brand city is to widespread the culture of working together.
 İnterview: Derya Şahin / Photo: Onur Şan
The Governor of Izmir Mustafa Toprak was appointed to Izmir almost a year ago. The Governor, who is dynamic and has been working on improving tourism in the city since his arrival, says that the only way to establish that is to widespread the culture of working together. Governor Toprak has high hopes about the Izmir Tourism Council, which met first the first time last week. The Governor, who says the city has problems regarding bed capacity, quality tourists, hot spots, museums and advertising, says, "Our goal is to become a uniting force in tourism and make Izmir a brand"
You have been in Izmir for almost a year. When you came to office, you started projects regarding touristic works in the city and solutions to various problems. What happened after these projects?
Toprak: As you have said, it has been almost a year. I knew about the city before I came here. After I came here, I reviewed the works and documents of the Izmir Development Agency, universities and the City Culture and Tourism Directorate. We also listened to the problems of sector partners and talked about what we could do to solve their problems. We tried to answer questions regarding advertising and infrastructural problems.
Izmir has a lot of cultural and touristic assets. They are all very valuable. Efes, Bergama, Birgi, Foça, Çandarlı, Dikili and Agora are just some of them. Despite this potential we don't receive a lot of tourists. The second problem is, do we have enough accommodations if tourist numbers increase? Right now, we have 42-43 thousand quality beds we can use. Some of them have investment management licenses and others have tourism management licenses. There are also ongoing hotel investments. So, we don't have enough beds for a city that houses this many assets. If we are to turn this city into a touristic center, we need the right infrastructure and accommodation is crucial. We have problems in this regard.
Another problem is the lack of restaurants and social activity areas. We need establish hot spots where tourists can spend time while they are staying in the city. Authentic malls, areas where traditional products are sold and museums are very important.
We especially have a problem about museums. We have the Ethnography and Archeology museums but these are not enough. We have too many artworks to display but we don't have enough space. We want to build an Aegean Civilizations Museum in Izmir in the very near future.
What can you say about our goals after your general evaluation?
Toprak: We can set goals for the next 5 to 10 years but we need to reach a bed capacity of 165 thousand by 2023. And after we have reached this goal, we need to improve it. Today, we have a problem regarding this issue. In order to receive more tourists, we need to establish transportation infrastructure. Air travel infrastructure is mainly ready because we have a 30 million capacity in total. The new terminals we have built will serve over 50 million tourists. But this is not enough. We need to increase direct flights to Izmir. We need to work on that. In addition, we need to create touristic routes for our guests and built roads along these routes.
We are receiving serious numbers via cruises. We began with 3-5 ships and 3500 people. After ten years, we have now reached 500 thousand people. 3but this is not enough. İzmir needs to attract more cruises. Also, our city needs to be the start and end point of cruises. Guests need to tour the city when they arrive. We need to establish more accommodations, and recreational areas.
You mentioned building hot spots in the city. The restoration of structures is crucial in this regard, isn't it?
Toprak: We need to renovate our old structures, civic architecture buildings and antique age assets and make them attractive. The Governorship, municipalities, City Culture and Tourism Directorate and the private sector all contribute to this cause but there is no unity. The best example is the historical Kemeraltı Market. We couldn't turn this area into a hot spot that lives 24 hours. We need to establish hot spots that will attract tourists. A tourist should be able to get to Agora easily, tour Kemeraltı and visit Smyrna… We are working on all these but we need to move faster. This can only happen if we work together.
We are thinking about a public bid regarding cultural assets in the near future. We will be going a long way. But all this requires time. Advertising is not enough; we need to build the infrastructure. I believe we can tackle this issue together.
Do you think works in this field are sufficient?
Toprak: Undoubtedly some things are being done but they are not enough to make Izmir a global brand in tourism. All tourism dynamics in the city are doing things individually but there is no unity. This needs to be solved. Maybe if we do that, we can achieve better things in advertising. We need to establish a culture of working together. In addition, we need to have more areas to improve accommodation infrastructure. Right now, the Ministry of Environment and our local authorities are working on this. I believe that touristic centers will increase after these plans are put into place.
You talked about making Izmir a brand city in tourism. But does Izmir have the necessary assets to become one?
Toprak: İzmir is already a brand. İzmir hosts all the beauties and characteristics of the antique ages with its 8500 year history. İzmir already has all the characteristics of a brand city with its air, climate, geography, easy access and awareness level. So, Izmir is a brand but we need to improve it. In other words, we need to create new brands within this brand. This is where we have a problem. Yes, Izmir is important; it's a brand but we need to decorate it. If we want to make Izmir a valuable brand, we need to better present Efes, Bergama and Birgi; we need to ready Agora for tourists. We need to better design Kadifekale, work faster at Smyrna and create touristic lines and roads. In short, we need to dress up our assets. Izmir needs this. We are working on these. We have established a tourism council. We want to create a culture of working together, being the uniting force and make Izmir a valuable brand.
Do you think Izmir's future in tourism is directly linked to working together İzmir?
Toprak: If we don't use our advantages, we can face setbacks in tourism in Izmir. If we cannot improve cruise tourism after all these years and if a borough next to us is attracting more attention that us, then we know we have a problem. We are already below country average when it comes to tourist numbers.
Do you think quality tourists that come to Izmir are enough?
Toprak: Tourists who come to Izmir come here for the sea, sand and sun and spend around 700-800 dollars. In golf tourism, people can spend up to 30-40 thousand dollars and around 5-10 thousand dollars in thermal tourism, hunting tourism and gastronomy tourism. So, tourists just come and go. We need to welcome quality tourists no matter the number.
Our country has proven itself. At this point, we need to work on quality tourists, production and environmental awareness. Turizm is an example. There are works but they are not enough In order to have more say in the global arena, we have to fix our problems regarding museums, accommodations, walking paths and advertising and create a high quality tourism infrastructure.
You say that antique cities like Teos, Metropolis and Klaros should be advertised as much as Efes and Bergama. What are your suggestions?
Toprak: We need to establish new destinations and important works are being done about this. The most important points of the 12 Ionian cities are in Izmir. Metropolis in Torbalı and Teos in Seferihisar are very important assets. There are structures that still stand string in Teos and they are as important as the renovation of the Efes antique port. That area is being organized as we speak and I believe we will make a significant progress until the end of the year. Metropolis is finished and we will open it as soon as we get the approvals. If we can create new destinations in addition to Efes, Bergama, The House of Virgin Mary, Agora and Kemeraltı, then we will have created an added value. Right now, Smyrna, Metropolis, Teos and Klaros are being rebuilt. İzmir's brand value will increase with them.
With regards to the problems you have mentioned, can we safely say that Izmir wasn't ready to host EXPO?
Toprak: If we are to host EXPO, all the dynamics in the city have to be ready for it. So I think we still have much to do in this regard. İzmir is not just a city on the shore; it is an agricultural city, has scenic beauties, a structure fit for sportive activities and an agreeable climate. We need to show people that our visual quality has increased and that we are putting importance on urban renewal.
If you were a tour guide, what kind of a route would you create for tourists?
Toprak: I would act according to the time the tourists had. If a tourist was here for a day I would advise him to see the unique structure of Kemeraltı, then visit Agora and finally go up to Kadifekale with a cableway to see the amazing panorama of the city. In addition, we have many unique artworks at Alsancak Basmane Train Station, we could show them those. There are many things to see in the city so we need to create different routes for people according to their duration of stay.