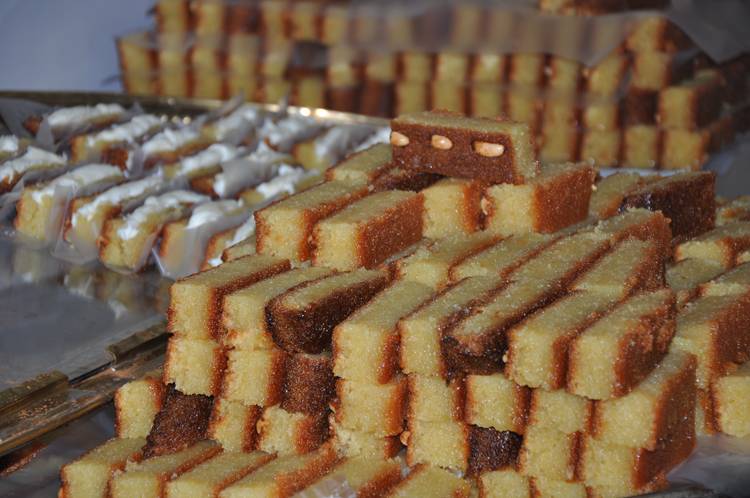 İzmir's unique dessert: Şambali
Boyoz, seafood and herb dishes are just some of the delicacies when it comes to Izmir's cuisine. Another special delicacy that is a favorite in Izmir is Şambali. Şambali, which is a special sweet, is a classic in Kemeraltı.
Historical markets all over the world are also the source of traditional tastes. Markets, which are visited by thousands of people every day, host restaurants that serve regional dishes that are transferred from generation to generation. The historical Kemeraltı Market, which is one of the world's biggest outdoor bazaars, is the ideal place if you are searching for such delicacies. One of these places is the famous Hisarönü Şambali corner.
The establishment, which was opened in 1939 by Adem Saatçi who immigrated to Izmir from Bulgaria, has been selling these special sweets for the past 72 years.
Adem Saatçi has sold this dessert, where he cooked in wood fire inside copper trays, on his mobile stall for years, giving it to his apprentice Muammer Doyurgan in later years. When Muammer Doyurgan passed away, his sons Can, Aşkın and Cenk Doyurgan took over the business.
This delicacy, which is known all over Turkey and the world, is sold in a small, 2, 5 square meter shop. Can Doyurgan, who states that they follow in the footsteps of Adem Saatçi, says, "We are continuing the business the same way Adem Saatçi did. Everything is made by hand, without using machines. We started selling our products in this shop in 1997. Today, my son Yiğit Muammer Doyurgan is in charge of the shop. Of course I am here too. This is a family business".
Clients from all over the world
Şambali is made with semolina, sugar and milk and it doesn't contain butter or eggs. It doesn't go bad even if stays in the fridge for a month. It is served with cream and cinnamon of desired.
Can Doyurgan says that Şambali is consumed not only by the locals but people from all over the world. Large supermarkets wanted to buy the dessert in bulk but they declined, not wanting to change the quality.
Doyurgan says, "We see this business as an art. We are trying to make it on our own without tampering with the quality. Thank God, we are doing well. We have clients from Istanbul and Ankara that come here often. We also have clients that come from abroad. We see our customers as our partners. We are all the owners of this store"
Number one in Turkey
Şambali is actually the traditional dish of Damascus. In Turkey, it is made in the Aegean Region, Tekirdağ and Adana. The 10 best gourmets in Turkey have named Şambali one of the best desserts in Turkey. "The Historical Hisarönü Şambali Shop" is considered the best in Turkey. Can Doyurgan points out that Syrian tourists find the Şambali in Hisarönü tastier than the one made in their home country.